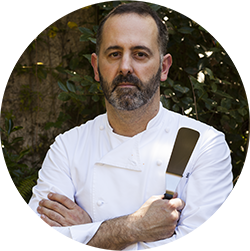 Jairo López studies Business in Gijon and after trying luck in the world of banking, in 2002 he decides to move to England to get trained and continue his family's career as a Chef at Restaurant Cabo Vidio.
During his London period he works for major restaurants such as Bibendum, where he started his career. Then, together with Adam Byatt he works for the Thyme Restaurant, The Hospital Club and the Trinity Restaurant. He cotinues his training with Patricia Michelson at La Fromagerie and finally at El Faro, in London and as Hospitality Manager for David Chipperfield Architects.
In 2012 he returns to Spain and takes over Restaurant Cabo Vidío.
We change our menu quite often trying to get the best of daily fresh products. These are some of the dishes served in the last years what doesn't guarantee daily availability.
Monkfish soup
Clams in Marinara sauce
Lobster and monkfish cocktail
Soft crab cake
Ham croquettes
Tuna in a light escabeche
Coppa Ibérica Joselito
Homemade foie terrine
Tomato salad with pickled sardine loins
Grilled octopus, potato and vinaigrette escalibada (smoky grilled vegetables) vinaigrette
Cantabric anchovies
Asturian bean stew
Beans with cod "cocochas"
Ox meat casserole
Lamb shoulder for two (slow-cooked for 24 hours)
Galician beef top sirloin for two
Hake loins with cider sauce for two
Trasacar cod loin confit, homemade ratatouille
Trasacar cod "cocochas" in green sauce
Squid in ink stew